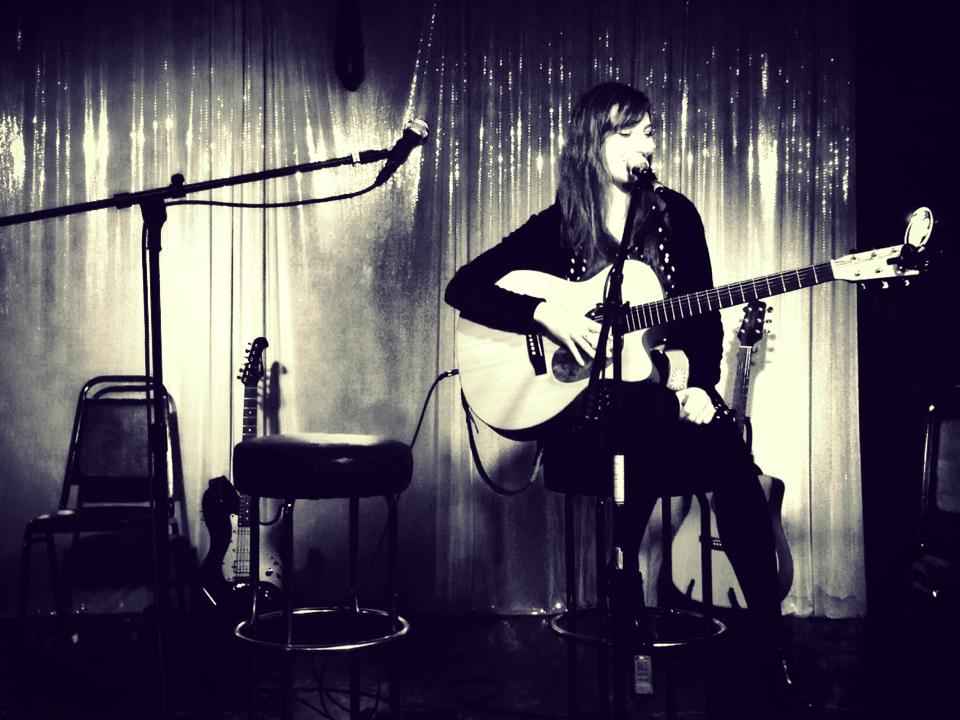 I've been singing in LA for a while now, and let me tell you, some of the things that we singer/songwriters have to put up with are ridiculous! . If you are a singer/songwriter like me, please read! It's about my thoughts on Open Mics. smile emoticon
1.) The open mic that is only popular because a couple legendary acts have played there.
The food is a bit crusty and expensive, it's loud, and the sound system isn't the best. You can't really make out what the singer is saying because the speakers are distorting and they are placed in a really awkward part of the room. The venue claims to have kickstarted the careers of several famous acts including Janis Joplin, Norah Jones, and John Mayer and now you will have the opportunity to play in this musical holy ground! You can brag to your friends about how you played next to Bob Dylan's 50 year old beer stain!
2.) The open mic that selects acts out of a hat to play.
You show up super earlyat 7pm. (The open mic doesn't start until 8pm but you want to make sure you get a spot). You stand in line for 30min and put your name in a hat. At 7:30, acts are selected at random. You get chosen as number 35 and you wait for 4 and a half hours to play two of your most heartfelt songs to an empty room.
3.) The loud bar that has a football game playing in the background
The bar is packed and you show up thinking it's going to be a great night! There are tons of new people to meet and share your new music with. You finish playing your new song and then all of a sudden the crowd stands up yelling and screaming while clapping. You realize someone just scored a touchdown and they aren't really clapping for you.
4.) The open mic you have to pre-book a week ahead of time
Maybe they are asking people to pre-book because they want to make sure everyone is good, or maybe they want to make sure that they get your sound right before the show. Perhaps they want to keep the show running smoothly without going overtime. Who knows! All you know is that you've shown up and you can't play because you didn't know that you can only pre-book. Luckily, one of the acts cancelled and the sound guy said he would squeeze you in at the end.
5.) The open mic that only old people go to
You are new to LA, so you research open mics in the area that an run on a Wednesday night. You find one at a folk music store just outside of town. So you drive about 15 miles out and show up to this place wearing hipster glasses and skinny jeans, with your guitar at hand, ready to make a statement to the room. You notice that there are only 5 people in the there including the sound man who is half asleep.
You don't want to drive home so you introduce yourself to an old man named Billy who is wearing a Hawaiian shirt and incredibly short shorts. He says he plays the banjo. Next you talk to a relatively plump man in his 60's named Steve who plays anti-war and peace songs on ukulele. Then there's Ted in his 50's, conservative and Christian, who only plays worship songs, and Donna who plays the kazoo and writes kid's music. They tell you that you are lucky to have shown up early for sign ups and that the open mic ends at 9.
6.) The open mic that also allows comedy and spoken word
Most of the acts that show up are musicians who play guitar, but now and then a comedy artist will show up and crack really bad jokes about their girlfriend and then revert to toilet humor when no one is laughing. The spoken word artist who shows up plugs in backing tracks of squealing dolphins and to add to the intensity of their poem, they do an interpretive dance at the end of their set.
7.) The bar that isn't set up properly to have an open mic.
The bathrooms and the entrance to the venue are right next to the stage. Normally when you enter a room, the stage is in the back and you come in watching a show. This venue on the other hand, just wanted to make a little extra money in beer sales and attract customers so they set up a mic stand and PA and called it an "open mic". Everyone has their backs turned from the stage and the performer looks like background music in the room. They might as well have set up a karaoke machine instead.
8.) The open mic that feels more like a singing competition than a community
There is an air of pretentiousness in this venue. The open mic is very popular with musicians but most people end up playing to an empty room because none of the other musicians stick around to hear the other performers. Musicians who play here don't even buy a beer, bring people or network with anyone else. The venue starts to impose a rule that you must bring at least 2 people or buy something.
9.) The open mic that the host booked so that they could be featured artist and play in front of an audience.
The host wanted to find a way to play a show in front of a packed room every week. They tell each performer that there are too many artists and that they can only play 2 songs each or do a 5-7min set. The host on the other hand gives themselves a 6-8 song slot in the middle of the night. All of their songs sound the same and they play the same thing each week.
10.) The open mic where you meet your best friends and form a band.
There's something special about this open mic. Everyone is friends with the sound engineer and each person who plays who plays is very talented. You all hang out after the set and get tacos at the food truck outside the bar. You end up chatting with a piano player and another guitarist and decide to jam over the weekend. You then form a band and play as featured artist next week.
THE END